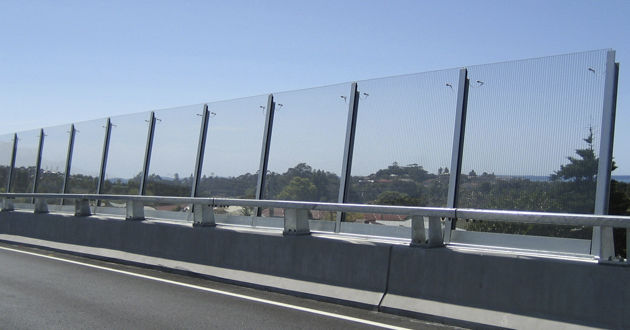 The transparent barriers are made of PMMA (polymethylmeth acrylate) OR polycarbonate Sheets, placed between support railings. Moreover, these Polycarbonate Embossed Sheets, Polycarbonate Compact Sheets, and Acrylic Sheets are clear in color and available in various thickness, length and colors to opt for.
These barriers are solely for isolation and meet the strictest criteria of the European standards EN 1793 regarding devices for the reduction of road traffic noise.
On demand, they are colored, translucent, inclined or wrapped around.  They perfectly integrate with other types of barriers.
Acoustic isolation according to EN 1793-2
DLR, 1793 > 24 dB
Category: B3
Compact  Acrylic  Sheets (Available in Different Colours) 
We are engaged in offering a wide range of building construction material which includes compact polycarbonate sheets. We offer compact sheets as per the needs and demands by the society of architects, engineers and builders. These compact polycarbonate sheets help in providing a smart way of minimizing the consumption of energy for artificial electrical lighting in several application areas. These are highly durable and provide longer service time. Our clients can avail these from us at very nominal prices.