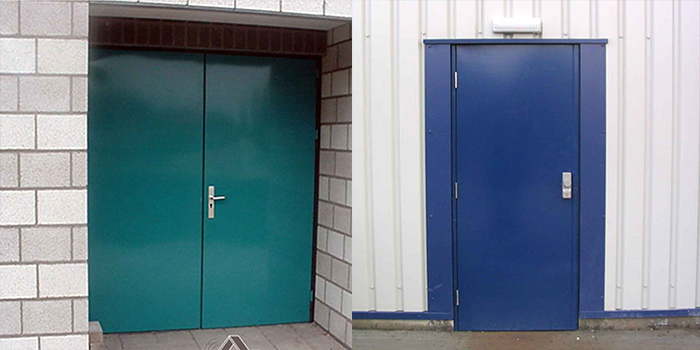 Useful to control noise propagation from one room to other room i.e. DG room , Power house , Electrical room and at many other place for industrial application
Steel acoustic door with Door frame , Hardware, Robber gasket and GlassVision Panel(Optional) etc.
Steel Acoustic doors  of required size ,  double / single leaf  door comprising of MS pipe  at three  sides , the hollow portion of  pipe filled with Rock wool to block noise transmission . The door leaf shutters are made out of 1.3 mm thick plain CRCA sheet both side , 85 mm thickness ,with acoustic insulation material of  Rock wool of 96kg/m3 density and one sound dampening layer of 3.5 mm thickness. The EPDM rubber gasket provided in between frame and shutter to fill gaps in between shutter and frame.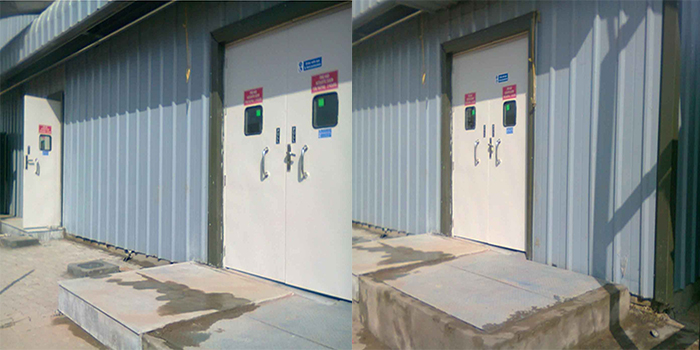 Hardware: – Heavy duty industrial type hardeare
Vision Panel ( Optional)  :- Door fitted with sound proof glass vision panel , sound proof glass made out of 06 mm , 02 no toughened glass with 12 mm gap in between both glass , gap filled with Argon gas and sealed with silicon sealing.
Finish: – Powder Coated in desired shade