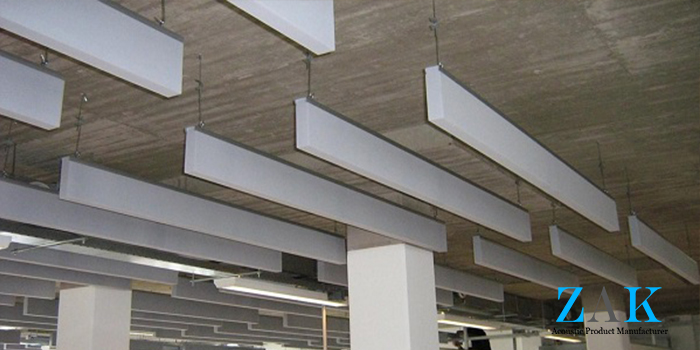 Acoustic baffles are a very effective for acoustical treatment in large open areas. These baffles have very high sound absorption coefficients ranging from NRC .75 up to NRC 1.15. Acoustical baffles, are designed to hang vertically down from a ceiling, acoustical banners are designed to be hung horizontally to a ceiling.
FABRIC WRAPPED ACOUSTIC BAFFLES
Fabric Wrapped Acoustic Baffles reduce sound reverberation and provide more peaceful environment. These baffles are wrapped with a soft synthetic fabric, and their strong sound-absorbing performance, durability and eye pleasing appearance are unmistakable. These baffle products are Class 1 fire rated and offer high sound absorption ratings, NRC .80 – 1.05.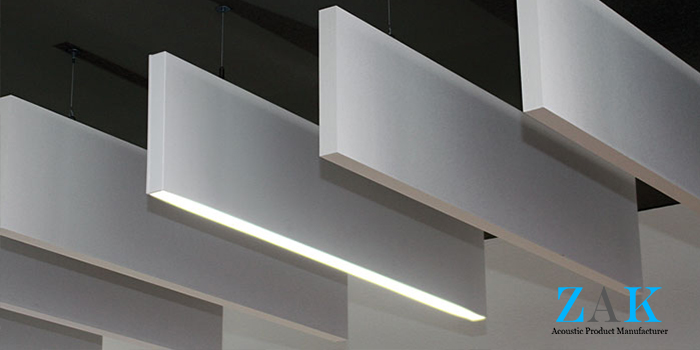 The Acoustic hanging baffles are constructed with grommets, that allow a quick and easy installation at site.
DECORATIVE FABRIC WRAPPED ACOUSTICAL BAFFLES
High and Quality Performance
Architecturally Decorative and Durable
Custom Engineered & Manufactured With Perfection
PROPERTIES
Free of Synthetic and Natural mineral Fibre, Holgens & CFCs
High degree of Thermal resistance.
Very Low Volume Weight.
Color Customized.
Baffles covered with Ripstop Nylon Fibre are extremely durable sound insulation Baffle
There are multiple colors in both PVC and Rips Stop nylon to choose.
Fire rating and a sound absorption rating of 0.90 – 1.10 NRC.
Covered in (Sailcloth, Guilford, Whispertex, Tekwall, Webcore) finish
NRC CHART
PANEL TYPE
THICKNESS INCHES)
FINISH
CORE
ABSORPTION (SABINS PER 48″ × 24″ UNIT)
125Hz
250Hz
500Hz
1000Hz
2000Hz
4000Hz
SABINS
TYPE 1
1″
FABRIC
GLASS FIBER
4.55
6.20
8.42
12.83
14.35
14.28
10.45
TYPE 2
2″
FABRIC
GLASS FIBER
4.48
8.00
13.20
17.93
16.98
16.35
14.02